You may have noticed in the last few years that lots of folks are encouraging you to be grateful. Expressing your gratitude sound positive, but "gratitude" isn't just another trendy hipster concept. There is actual scientific research that reveals concrete benefits to being thankful.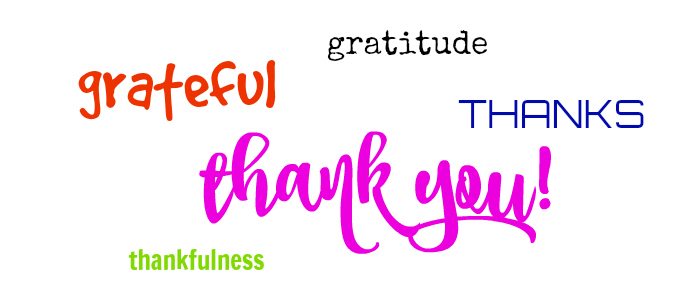 Benefits of Gratitude
According to an article on Forbes.com1, gratitude improves your physical health (including helping you to sleep better and longer), your self-esteem, your relationships and even your mental strength.
A study conducted by Robert A. Emmons, Ph.D., at the University of California at Davis and his colleague Mike McCullough at the University of Miami, found that out of three test groups the participants who weekly listed five things they were grateful for during a ten week period felt better about their lives as a whole, had fewer health complaints, exercised an average of 1.5 hours more, and were 25% happier than those in the other two groups.2
Other studies have concluded that gratitude decreases anger and increases emotional intelligence.
5 Ways to Increase Your Gratitude
Now that you know how important and beneficial gratitude is, let's look at some practical ways you can increase your thankfulness.
Morning Gratitude List
Start each morning by listing 5 to 10 things for which you are grateful. Meditate on your list throughout the day.
Lessons Learned
Write down one or two obstacles or challenges you are experiencing right now (or have experienced in the recent past), then write what you are learning from these experiences. Wisdom comes through experience and is a valuable characteristic.
Gratitude Journal
Keep a log on your smart phone or in a physical journal listing all the tiny blessings in your life, from clean air to breathe to a safe home to live in. Reminding yourself of those things you take for granted can exponentially increase your gratefulness for them.
Best Part of My Day
At the end of each day think back to the best part of the previous 24 hours and think about how grateful you are for that moment or event.
People Power
Think about three or more people in your life for whom you are grateful. Sit down and write them a note telling them what they mean to you.
Gratitude is a powerful factor in leading a happy, healthy life, so let's start now.
Leave a comment telling me 2-3 things for which YOU are thankful.
Thankful for you!