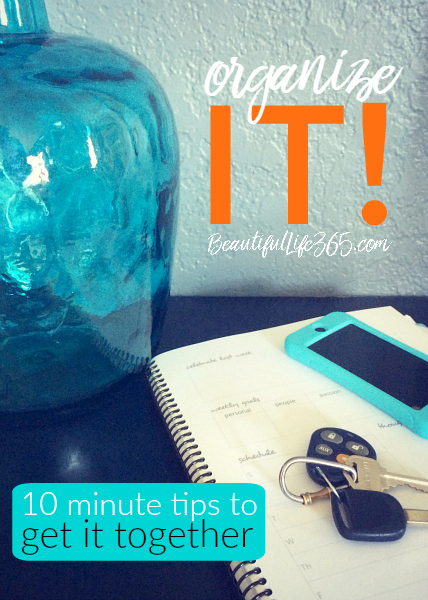 Hey Friend!
We're on our way to a beautiful life, and one key to a life you love is eliminating the nonessential.
You've probably figured out by now that you can't do it all, but if you're like me, somehow your schedule fills up and before you know it, you're feeling overwhelmed and guilty because you think you aren't doing enough.
May I please encourage you to start removing some of the tasks and activities from your schedule and to-do list? 
I know that streamlining your schedule can be challenging, but there are three questions I ask myself that make the process a little bit easier.
What Can I Postpone?
If we're honest with ourselves, we have to admit that there are items on our task list that we can postpone until later such as deep cleaning tasks or projects that we want to complete, but which aren't life-and-death urgent. Sometimes these tasks and activities are on the list because we feel pressured to keep up with our neighbors or friends in our circle.
And sometimes we put pressure on ourselves to participate in activities because we are afraid of the consequences of not doing them — when in reality, the consequences aren't that devastating. I mean when is the last time someone came and checked how dusty your furniture is?
If you're in a stressful or busy season of life, release yourself from the pressure and guilt by determining what is actually urgent and important, then place those unimportant tasks and activities on a "To Do Someday" list.
What Can I Delegate?
I have to admit that I am terrible at delegating, but there are times in life when I have to ask for help. This usually means asking my teenage daughter or my husband to do the grocery shopping, giving some of my cleaning responsibilities to other family members and having everyone help out with food prep and cooking.
You may need to ask a friend to keep your kids for a couple of hours so you can run errands more quickly or have your hubby pick up the team snack for you this week instead of baking something from scratch. Decide what can be done by others and ask them to do it.
What Can I Eliminate?
This question can be the most difficult, but many times we simply need to stop doing activities or tasks that are causing stress in our lives. Maybe you need a season when your kids are not involved in any outside activities. Maybe you need to stop volunteering for a few months or take a semester off from those night classes you are taking.
Take some time to evaluate whether the way you are spending your time really reflects your values, and start to eliminate those activities and tasks that are "good", but not best for you in this season of your life.
And I am going to lead by example, as they say. Our family has recently been hit with some serious health issues and I have realized that I can't possibly keep up with everything on my to-do list.
As a result I have made the difficult decision to pause the Beautiful Life 365 member podcast and change the monthly family activities to tips to connect with friends and family. I appreciate your patience and grace as I make these changes so I can free up some time to take care of myself and my family.
I would love to hear what you will be eliminating from your schedule and to-do list, so leave a comment below.
We can do this!

10 Minute Task: Choose at least one activity or task to remove from your schedule this week.
You May Also Enjoy:
The Truth About My Organizational Skills