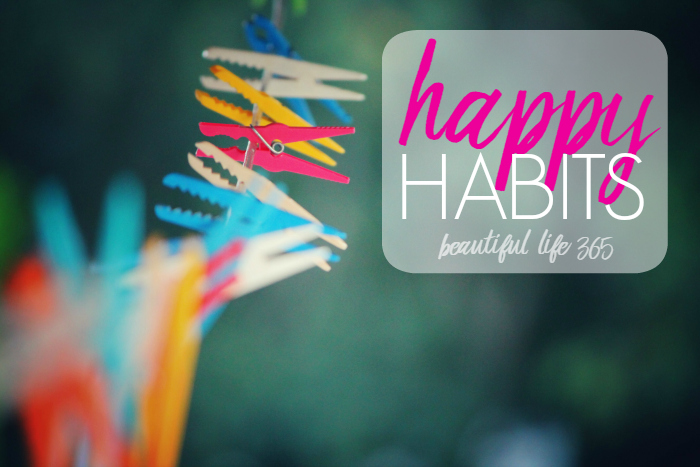 Happy Habits
Adding One Helpful Bit At A Time
We're on this journey to live a beautiful life together, so each month you and I will work on developing one Happy Habit to make our lives happier, healthier and more beautiful.
This month we're working on enjoying a tech free hour once a day.
Why Go Tech Free?
If you have a smart phone you may have noticed that it's becoming increasingly difficult to put your phone down, and this over-exposure to technology is creating some negative effects in our lives.
The ever-present flow of information through our devices is drastically reducing our attention span, our ability to focus and our memory. A study conducted in 2007 found that younger respondents were less likely to remember personal information like a relative's birthday or even their own phone number. Some people even find it difficult to navigate their own city without the help of GPS because they have relied so heavily on it.
And that's not all.
Neuroscientists have discovered that the glowing lights emitted by our laptops, tablets and smartphone screens at night actually fool our brains into thinking it's still daytime and they can even change our internal sleep clocks so that we have a more difficult time falling asleep and we sleep less deeply.
How to Start a Tech-Free Hour
So our Happy Habit for this month is to institute at least one hour of tech-free time every day. I suggest turning off all of your devices at least one hour before you go to bed and even charging your phone outside your bedroom so you aren't tempted to check it. You can also make the first hour of your morning tech free and start your day by quieting your mind rather than checking email and social media first thing.
It will also help if you plan something positive to do rather than simply turning off your phone. You can read a book you've been wanting to read, journal, or take a bubble bath. Make this tech-free time something you look forward to every day and you'll be more likely to stick with it.
So this month on your BL365 Weekly Plan you'll see:
I would love to hear if you'll be participating and what your thoughts are on this topic. Leave a comment below or click the CONTACT tab in the top navigation bar to email me and let me know what time of day you will put away your devices.
We can do this!

You May Also Enjoy:
Join the 7 Day Digital Detox Challenge HERE.
Why I Start My Day Without Technology