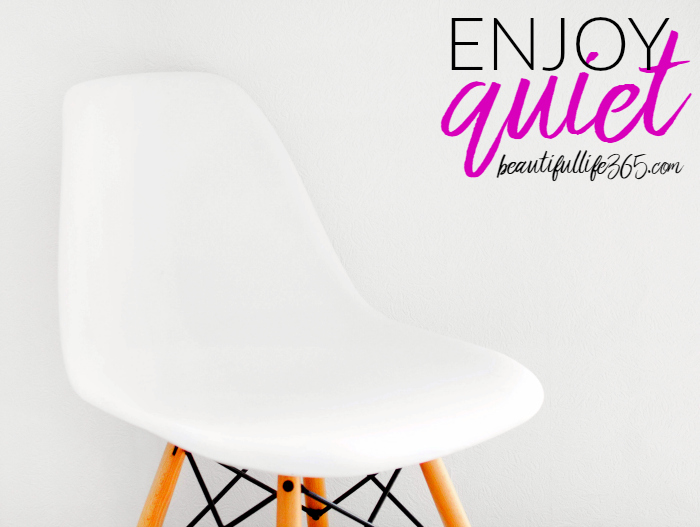 Are there any truly quiet places left in our lives?
Our smart phones are constantly beeping or buzzing; televisions are on for hours a day in every home (even the shanties I visited in the most impoverished part of Guatemala had television sets!) and everywhere we go we hear noise whether it's from traffic, elevator music or construction.
When I was in college, I read a short story by science fiction author Kurt Vonnegut that made a dramatic impression on me. In his 1961 short story "Harrison Bergeron", it's the world of 2081 and all people have been made "equal" through the use of physical and mental handicaps. Intelligent people must wear a mental handicap, a radio device in their ears which emits a variety of sharp noises every twenty seconds so that they cannot complete a thought. Sound familiar? Blue Tooth, anyone?
Vonnegut envisioned our noisy world decades ago — only we've arrived there a little ahead of his predicted schedule. It seems there is no longer any place to find silence.
But we must.
The Case for Quiet
As noisy as our world is, and maybe because our world is so noisy, we have to be intentional about seeking out quiet.
As John Grossman and Gordon Hempton write in their book (affiliate link) One Square Inch of Silence:
Good things come from a quiet place. Study, prayer, music, transformation, worship, communion. The words peace and quiet are all but synonymous, often spoken in the same breath. A quiet place is the think tank of the soul – the spawning ground of truth and beauty."
We need quiet to renew our minds, refresh our perspective and connect spiritually. When there is no "downtime" for our brains, we become overwhelmed and frenzied. Our bodies were not designed to work constantly without rest, and quiet is the rest for our brains.
How Can We Create Quiet?
So knowing that we need more quiet time in our lives, how do we create it?
Start the day without technology.
Most of us are in the habit of checking our phones the second we wake up — before we are even out of bed. We conveniently leave the devices on our nightstands and it just seems like the thing to do.
May I suggest that you charge your phone outside your bedroom and wait at least 30 minutes before checking it or turning on any noise? It will seem uncomfortable at first, but you will soon grow to love that quiet space in your day. (And don't worry, you can still purchase alarm clocks to help you wake up on time.)
Set specific times when you watch television.
I remember visiting my grandmother when I was a child and the television was constantly on as background noise. She turned on the set first thing in the morning and it was on for hours a day until she went to bed. I'm not sure she actually watched many shows, but she rarely had the t.v. off when she was at home.
If you're in the habit of leaving the television on, or actually watching it for hours a day, why not set one or two specific times when you watch so you have some quiet time in your household.
Put the phone down.
Smart phones are an amazing piece of technology, but they are also addicting.
According to the Daily Mail, a UK news source, a study conducted by Nottingham Trent University asked participants aged 18 to 33 to estimate the time they spend on their phones and then installed an app to track their usage for two weeks. The participants checked their devices an average of 85 times a day, spending a total of five hours browsing the web and using apps. That's 1/3 of the time a person is awake!
Let's choose differently and put down our phones for significant parts of the day.
Leave a comment to let me know what you think, and if you'll be joining me in the journey to create more quiet in our lives.
Pursuing quiet,