We're on our way to an organized, beautiful life and this week I'm sharing How to Create a Monthly Vision Board. If you want to join in, we'll be working just 10 minutes a day on a simple Monthly Vision Board that will help you envision the month ahead and reach your most important goals.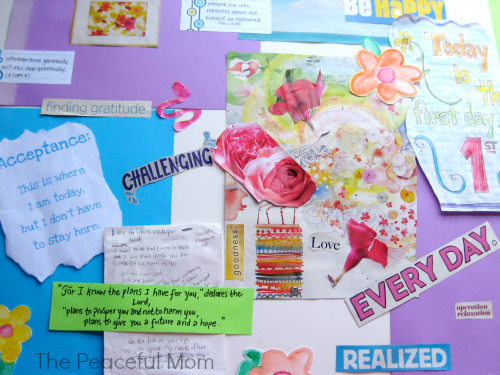 WHAT IS A VISION BOARD?
An inspiration or vision board is simply a collection of words, phrases and pictures that represent your overall life goals, or a visual representation of something you want to achieve.
For example, if you want to re-decorate a room you can make a design board with photos you collect from magazines, fabric scraps and paint chips. If you want to run a 5K or marathon, you can make a board with your training schedule, encouraging words and photos that represent you as a healthy and strong runner.
My favorite way to use a Vision or Inspiration Board is to discover more of what I like and who I am as a person, and to visualize the kind of life that I want to live.  Vision boards help me to live a more intentional life because they enable me to define what I want in my life, dream about the future and focus on my goals so I stay motivated to keep moving forward.
WHY CREATE A MONTHLY VISION BOARD?
Life vision boards are fantastic for keeping the "big picture" in mind, but I have found that when I am more specific, I accomplish more and stay on track. That's why I started creating monthly vision boards.
Monthly vision boards enable you to reach your goals by helping you in three ways.
Monthly Vision Boards Make Your Goals Visible
If you can't see it, you can't accomplish it.
All vision boards have the advantage of enabling you to visualize where you want to go. Seeing yourself accomplishing those goals actually helps you to achieve them. Creating a monthly vision board helps you to visualize what you can accomplish in the short term.
Monthly Vision Boards Make Your Goals Doable
Our big life dreams can motivate us, but to actually accomplish those goals we need to break them down into bite-size pieces. Focusing on one month at a time helps you to create realistic goals that you can actually achieve.
Monthly Vision Boards Increase Your Focus
Because a monthly vision board causes you to focus on a short amount of time, you can more readily envision what you want to accomplish. A month is short enough to seem reachable, but long enough to give you a little bit of breathing room in how you move toward your goals.
How to Create a Monthly Vision Board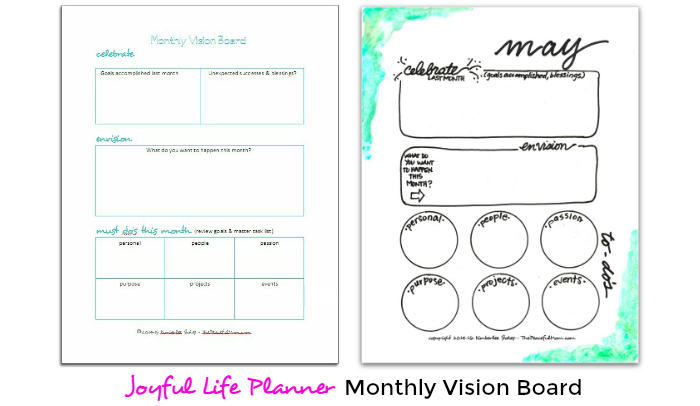 I use the Monthly Vision Board from the Joyful Life Planner. (Members, in case you don't have the planner, click HERE for a printable based on the planner page on the left.)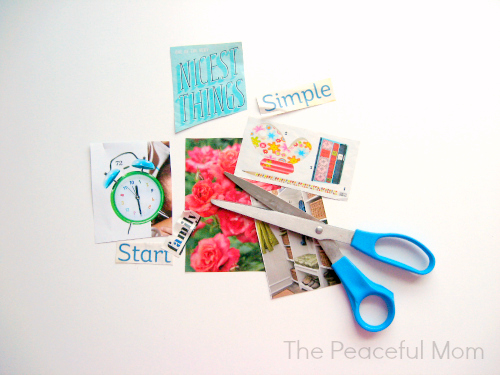 You can also cut out photos from magazines or print them from the internet then add them to a piece of scrapbook or copy paper.

Another way to create your monthly vision board is to create a secret board on Pinterest where you add images to motivate you toward your goals for the month. You can create a board for every month with all of your goals for the month or create separate boards for long term goals.
I created the Frugal Christmas Party board when I planned a party in December. I created the Summer Fun board a few years ago for fun activities to do with my kids during the summer months.
What to Include In Your Vision Board
To create your own monthly vision board, include these three aspects:
Celebrate Your Progress
My first step in creating my monthly vision board is to review the previous month and celebrate the progress I made, the goals that I accomplished, as well as the happy moments and blessings that I experienced.
I feel so motivated and happy when I focus first on all of the positive aspects of the previous month.
Envision Your Future
My next step is to visualize my goals and envision what I want in the upcoming month. I ask myself two questions:
"How do I want my life to look this month?"

AND

"What progress do I want to make by the end of this month?"
I then write words and phrases describing where I want to be in the next four weeks. Creating this vision gives me focus and direction, which increases the chances that I will actually accomplish my goals.
Create Your Action Steps
Once I create my vision for the month, it's time to create action steps to reach my goals. I break down the big goals into specific tasks that I can do daily and/or weekly which moves me toward my big life vision.
I check my goals for this year (read more HERE) then write my action steps for the upcoming month.
It's important to limit your goals to two or three for each category, or even two or three big goals for the month. A smaller number of goals helps you to focus your efforts which increases your productivity. It also helps to prevent overwhelm.
Accomplishing one small goal is better than being overwhelmed and doing nothing.
Creating a monthly vision board has dramatically increased my productivity, focus and happiness. Thanks to a little bit of thinking ahead, I'm rocking my goals.
If you'll be joining us for this week's 10 Minutes a Day Vision Board Task, leave a comment.