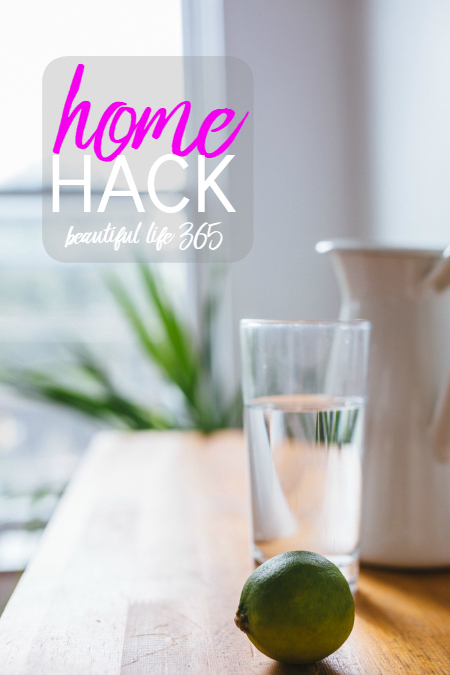 Hi [MM_Member_Data name='firstName']!
One key to living a beautiful life is keeping your home clean and organized. This week we'll be working on a Pantry Spring Clean.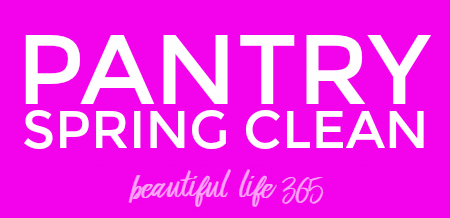 Why Do a Pantry Spring Clean?
If you're like me, then your pantry is one of those neglected parts of your home. It's well used, but rarely cleaned. (Who has time? Right?)
But pantry clutter is not only stressful to look at day after day, it may also be costing you money because you're not sure what you have, or when it expires.
What do you need to accomplish the Pantry Spring Clean?
You will only need a few basic supplies for this challenge:
trash can
wet rag (or paper towels and spray cleaner)
Pantry Spring Clean Step-by-Step
Depending on the size of your pantry, this job could take up to an hour to complete. If you like focusing on the task until you complete it, schedule time to do it all at once. Alternatively, you can take one shelf at a time and work for 10 – 15 minutes a day.
Choose the method that seems the least overwhelming to you.
Put on some fun dance music and let's get started with the first shelf! (I like to start at the top and work my way down.)
 1. Remove all open packaging from the shelf.
Determine if food is still edible. If not, throw it away. If it's still good, close the package well and set aside.
(You may want to place food in a plastic zipper bag or other storage container and throw away the packaging.)
2. Check for expired and stale food.
Next, remove the remaining items from the shelf and check each package for its expiration date. Be sure to check for rancid nuts and oils, as well. If any food is expired, throw it out. Sort remaining packages with upcoming expiration dates to a separate side of the counter.
3. Consolidate duplicates.
Combine packages if the food is still fresh, or discard the extra. The goal is to pare down your pantry to make room for fresh staples. You may want to start a pantry donation box where you add food that is still fresh, but which you know you will not eat.
4. Clean the shelf.
Wipe the shelf down with the damp cloth, or spray the shelf with cleaner and wipe it with a paper towel.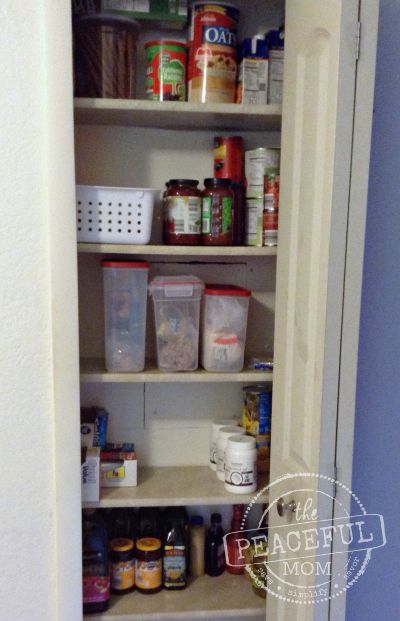 5. Replace the items.
Replace all of the packages you removed, placing like items together and those with upcoming expiration dates in the front. Check to see if you can move like items from other shelves to this shelf so they are grouped together.
The goals is to have all similar items grouped together in an organized fashion. You may even want to label your shelves so family members know where to place food items. For example:
shelf 1 — baking supplies;
shelf 2 — canned goods;
shelf 3 — cereal and snacks
You can also print this Free Pantry Inventory Printable from ThePeacefulMom.com.
6. Make a list of anything you need to buy.
Make a note of any storage containers or staples you need to buy. Check my list of my Favorite Kitchen Organizing Tools HERE.
If you'll be joining us for this "Pantry Spring Clean" Challenge, leave a comment below.  
We can do this!