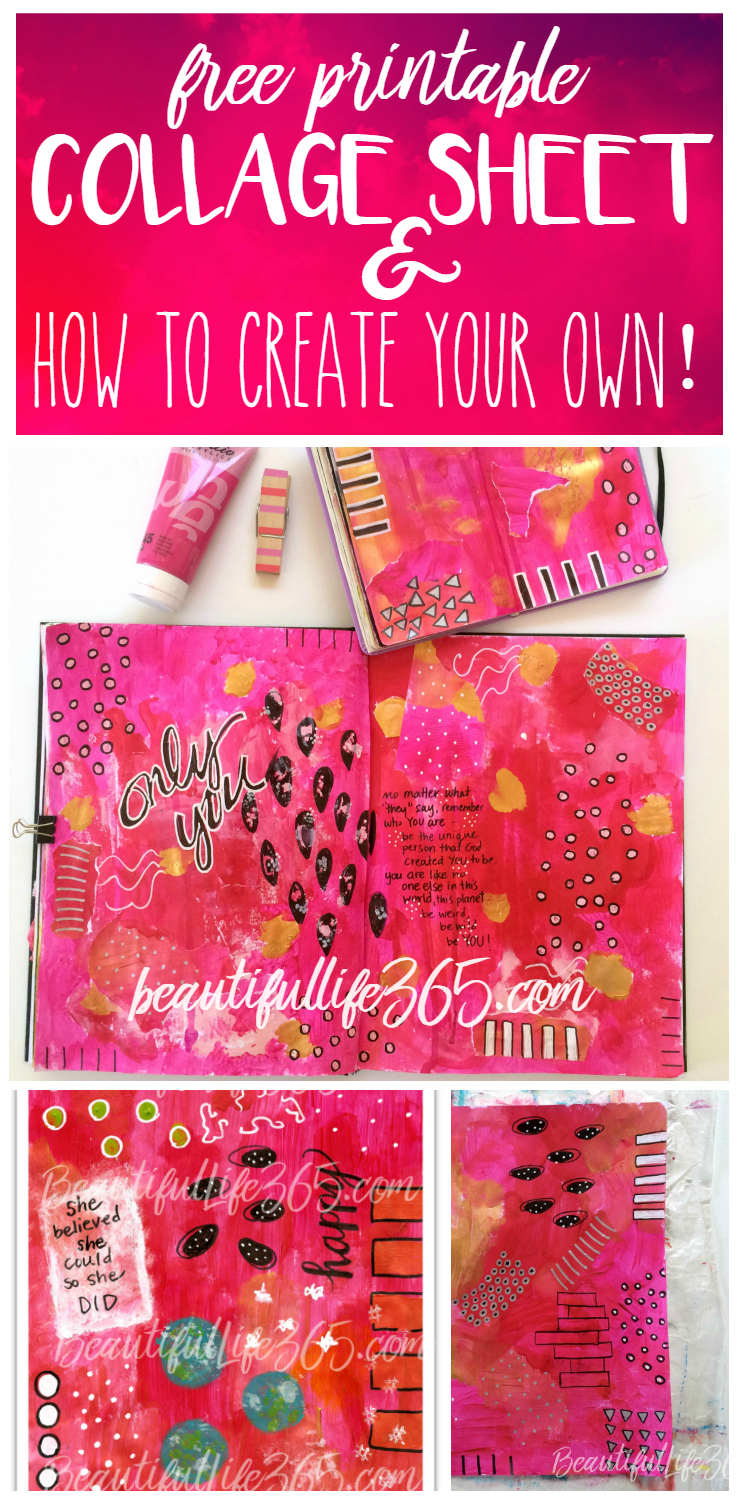 Free Printable Collage Sheet (& How to Create Collage Papers)
Hey Journaling Friend!
I have a new mixed media journaling technique for you today and a free printable collage sheet — yay!
I love using acrylic paint in my art and bullet journals. I love the ability to mix colors on the page, the way you can layer colors on top of dry paint without the colors mixing, and the texture of the page once the paint is dry.
I don't love wasting paint, though.
So I've come up with a solution — creating collage papers with any leftover paint.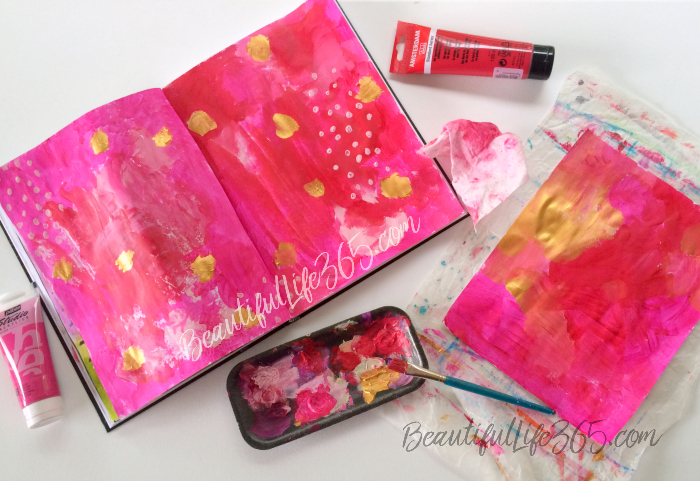 Once I've finished painting the background of a journal spread, I simply take a sheet of copy paper and paint it with the excess paint.
As you can see in the photo above, I had enough paint for an entire page, but sometimes I only have enough for a small section so I add more paint to the page as I do other projects.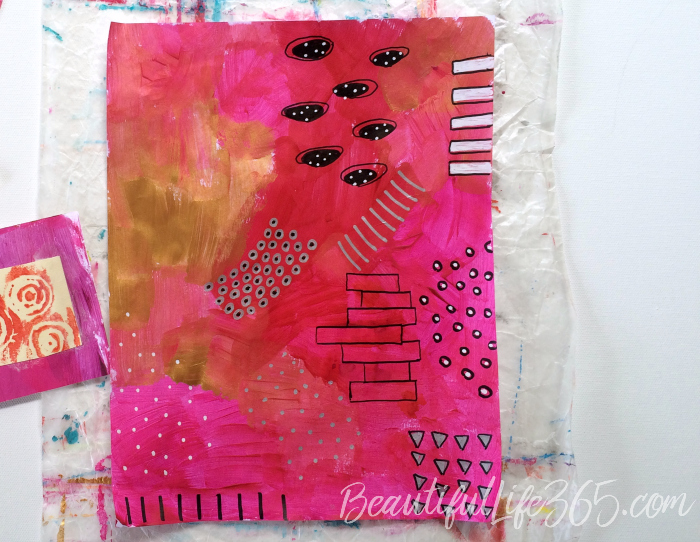 When I have a fully painted page, I take a black Sharpie marker or paint pens and start to add patterns and doodles to the page.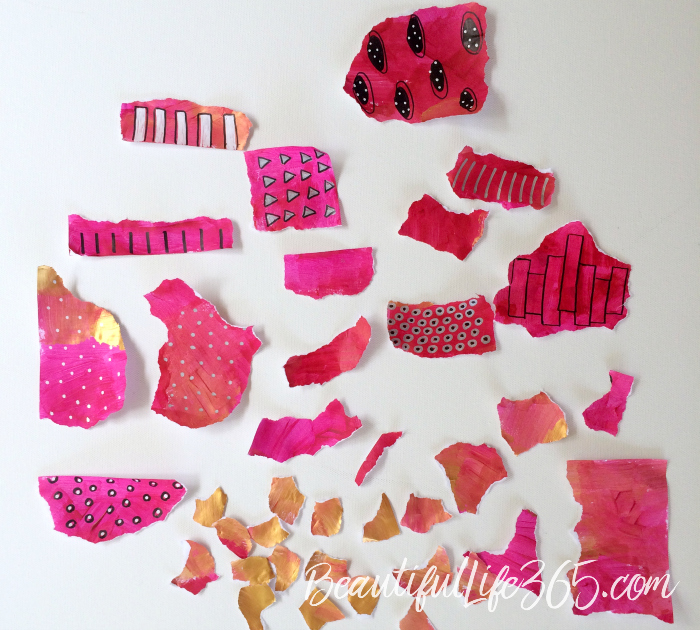 I then cut or tear the pieces apart and store them in a plastic zipper bag. When I'm creating a journal spread I take out my collage papers to see if I want to add any of them to the pages I'm working on.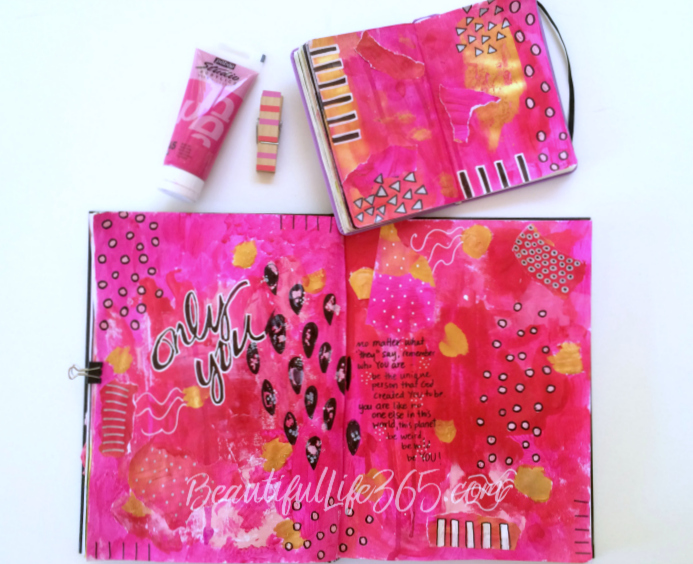 These are a couple of spreads where I incorporated some of those collage papers in the design. Sure I could have painted those elements on the page, but I love the texture and look of adding collage elements.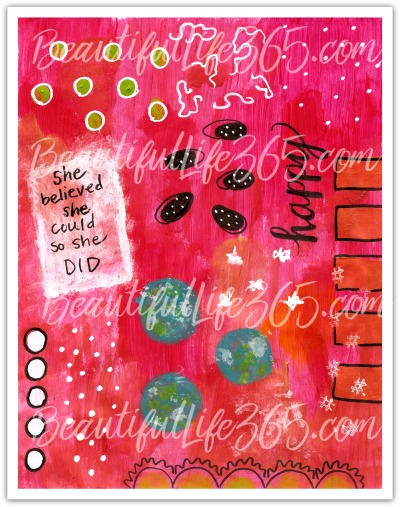 If you'd like to try this collage technique, I've created a free printable collage sheet for your journal to get you started. (The printable will not have the watermarks you see in the photo above.)
Click HERE to join my Journal Inspirations Community and download your free printable collage sheet for journaling.
Printing Instructions:
Print on paper or card stock using the photo or high quality setting.
Allow printer ink to dry completely on the page before applying glue, gel medium or other wet mediums to the paper.
Use collage papers in journaling, mixed media projects, greeting cards, scrapbooks and more.
Please Note:
This original artwork is the property and copyright of Kimberlee Stokes. All downloads by you (the User) are for PERSONAL USE ONLY. Under NO circumstances may these images be resold in any format (including as collage sheets, cut-up, digitally altered formats), printed for commercial use, distributed electronically or redistributed in any way.
Use of elements for mediums such as (but not limited to) personal websites, social networking sites such as Instagram/Facebook/Twitter and blogs are allowed as long as they do not serve a commercial, income generating purpose. If elements of files downloaded from our websites are used, please do credit us with my link and name: copyright 2017 Kimberlee Stokes — www.beautifullife365.com.
Journal On!