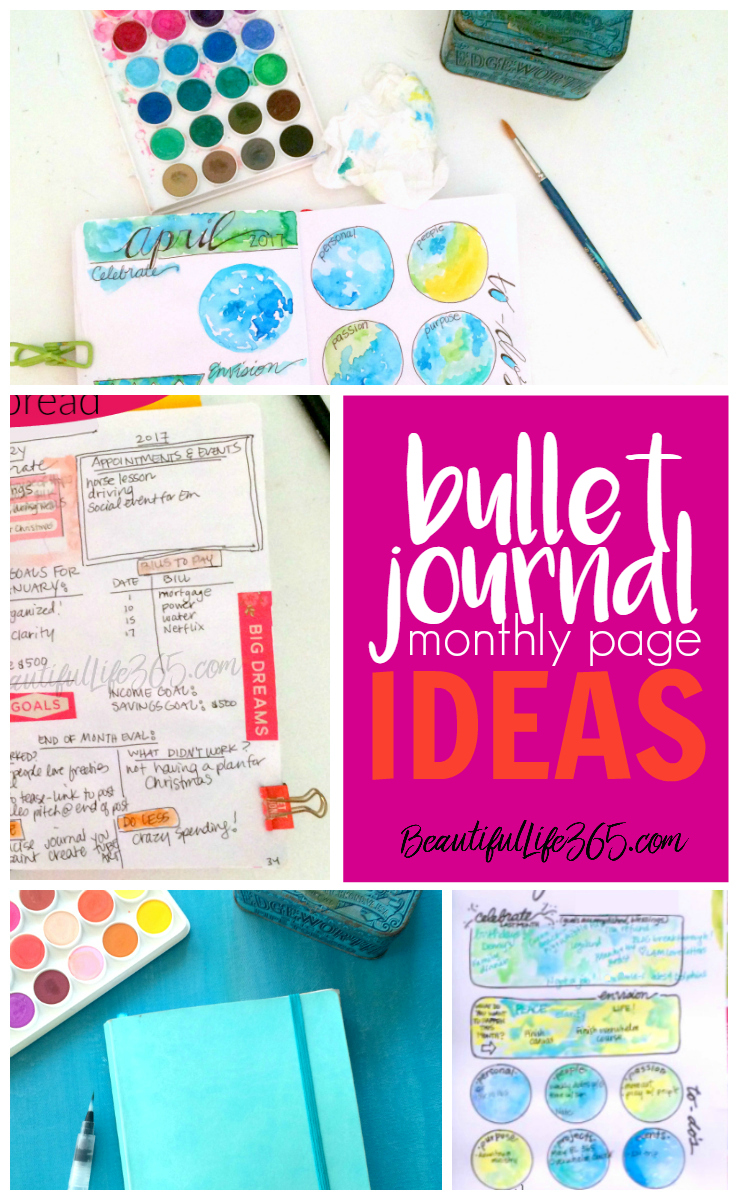 Bullet Journal Monthly Pages
In my last post, I gave you a peek inside some of my journal entries from last month (click HERE to see my Monthly Journal Peek). Today I want to share how bullet journal monthly pages can help you and two ways that you can add monthly pages to your journal.
The original bullet journal system is an analytical analog (non-digital) way of organizing your life with a specific set of symbols and shortcuts. I can appreciate the ingenuity of Ryder Carroll's original system, but I'm a bit more creative in the way I journal.
What I love the most about bullet journaling is that each new page is a blank canvas to use in whatever way works best for you. And if you try something you don't like, you just cover it up or turn the page and try something new — perfect for my non-committal personality!
Why Create Bullet Journal Monthly Pages
One of my favorite ways to use my bullet journal is to create a monthly overview before the month begins. Bullet journal monthly pages give you the opportunity to evaluate how your life is going and to decide if you want to make any changes.
Monthly pages also enable you to:
plan appointments, events and projects so that you can avoid over-scheduling;
envision how you want your life to look and what you want to happen;
set your goals, dreams and intentions for the month.
How to Create Bullet Journal Monthly Pages
Before you begin your monthly page take a few minutes to think about what you want to include and what your purpose is for the monthly page.
Your pages can include:
record memories and accomplishments from the previous month
list tasks and projects that you want to complete
write down your goals for the month
write down dates for upcoming events
evaluate what worked and what you need to change
Sample Bullet Journal Monthly Pages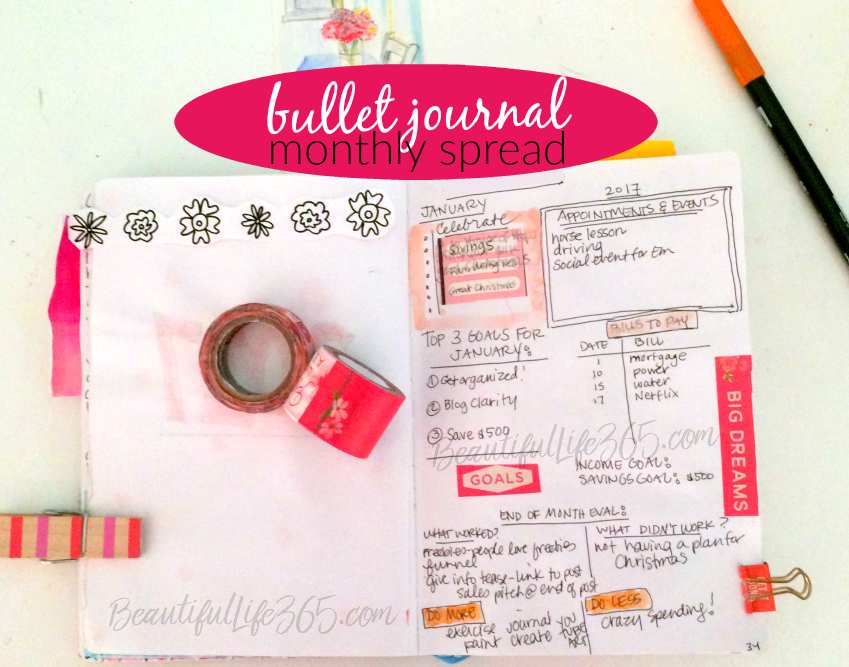 In this spread from January I included sections for:
celebrating the previous month's accomplishments;
upcoming appointments and events;
goals I wanted to accomplish;
I also used an end of the month evaluation at the bottom of the page that included the questions of what worked and what didn't, as well as a list of what I wanted to do more of and what I wanted to do less of.
This spread for April uses the Joyful Life Planner Monthly Vision Board format which includes sections to:
celebrate the previous month's blessings and accomplishments;
envision how I want the new month to look and feel;
sections for my top priorities divided into 5 categories: personal, people, passion, purpose and projects;
space to write in upcoming events.
I love this spread because I used watercolors, my new favorite medium. The notebook I use works so well with watercolor because the pages are thick and the paint doesn't bleed through. (See the Best Bullet Journal Supplies HERE.)
I would love to hear what you include in your monthly overview and to see your pages so leave a comment or a link below.
See the Best Bullet Journaling Supplies HERE.
Journal On!