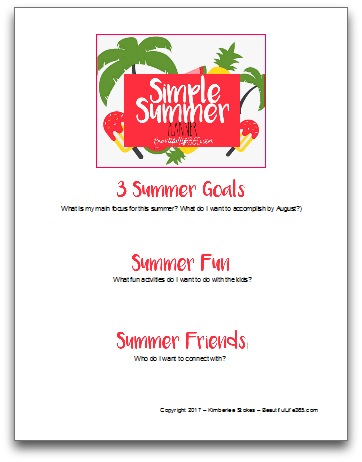 Hey Friend!
It's hard to believe, but summer is just around the corner. And I want you to have a fun memorable summer with your family so this week we'll be creating a Simple Summer Plan.
Choose a Summer Project or Goal
Sure summer is a time to relax and enjoy life, but it's also a fantastic time to focus on a couple of small goals or projects you want to accomplish.
Summer Goal Ideas:
Complete a DIY project. Search Pinterest for a simple project to complete;
Start a hobby (adult coloring, art journaling, etc.);
Learn a new skill by watcing You Tube videos or reading books from your local library;
Redecorate a room in your house.
Read a novel.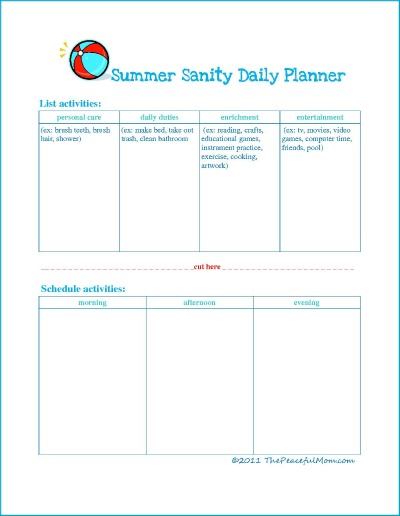 Create a Routine
Scheduling your carefree summer days may not sound like fun, but your life will be easier and your children will be calmer with some kind of basic framework for your days.
Include necessities like personal hygiene, household chores and a regular bedtime as well as fun.
Print this free Summer Sanity Daily Routine Planner to help create your daily summer routine.
Plan Some Fun
The more relaxed schedule of summer means more time to hang out with friends and have fun with your kids, but it probably won't happen without a plan. Go ahead and list some activities you want to do with the kids and some people you want to connect with over the next couple of months.
You can check out my Summer Fun Pinterest Board HERE with lots of frugal, fun ideas for kids. You can also get my Summer Sanity ebook HERE with lots of ideas from preschoolers to teens.
(Members can grab a copy of my Summer Sanity ebook FREE as a bonus for the month of May. Click the BONUS button in the sidebar.)
With just a little bit of planning, this summer can be your best ever!
We can do this!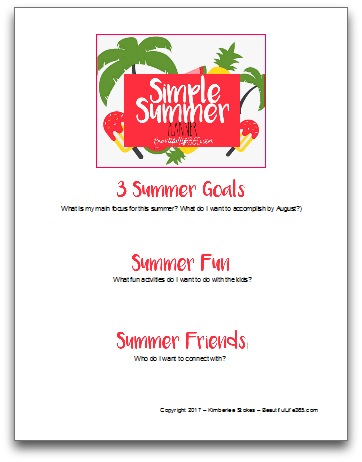 This week's 10 Minute Task: Print this Simple Summer Planner and jot down some ideas for your summer. If you have the Joyful Life Planner, be sure to use the Monthly Review sheets to track how you're doing with living your top priorities and reaching your goals for this year.