(Or How to Organize Paperwork & keep it that way!)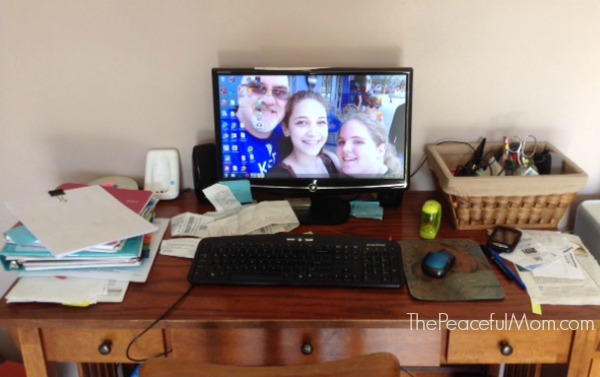 Do you have a problem with stacks of papers in various locations around your home? Do you feel overwhelmed by the constant battle to deal with paper? I feel your pain.
It seems like paper comes into our house by the truckloads, between mail, bills and school related papers, there is a never ending stream of the stuff.
If you feel frustrated and overwhelmed by paper clutter I have a simple step-by-step process to help you overcome your piles and organize paperwork in a short time.
Collect
The first step in your full frontal attack on paper clutter is to gather all of your papers from every area of your house into one box or basket. If you currently have papers filed leave them in their folders until you have dealt with all of the loose papers in your home.
Once you have gathered them all, take the container to a location where you will have room to sort them. I used the desk in our office and the top of a storage container.
Quick Sort
When you have a backlog of papers you want to cut through the pile as quickly as possible so your first step is to do a Quick Sort into broad categories.
At this stage it is very important not to get caught up in the details but to move quickly to divide your big stacks into smaller stacks of paper "families". You can use separate baskets or folders to divide papers into these categories:
ACTIVE –  items that need to be taken care of soon such as bills to be paid, invitations to respond to, rebates to mail, letters to write, etc.;
CURRENT – items that do not need immediate attention, but which you will use in the near future or which you need to have easy access to on a regular basis. For example, sports calendars, mortgage related paperwork while you're buying a house, paperwork for projects you are currently working on, papers and receipts you will need for this year's taxes;
LONG -TERM STORAGE – tax information from previous years, medical records, warranties, homeschool records; paperwork related to previous projects;
SENTIMENTAL – photographs, children's artwork or writing, cards from friends.
Sorting into these main categories should only take a few minutes — I sorted 2 boxes of paper in about 20 minutes. If you start feeling overwhelmed you can work for 10 minute sessions over several days. If you choose to work in multiple sessions be sure to place a sticky note on top of each pile so you know the category for each stack when you return.
As you sort, if you're having trouble deciding which category to place the paper in, place it in the CURRENT pile and you can spend more time with it later.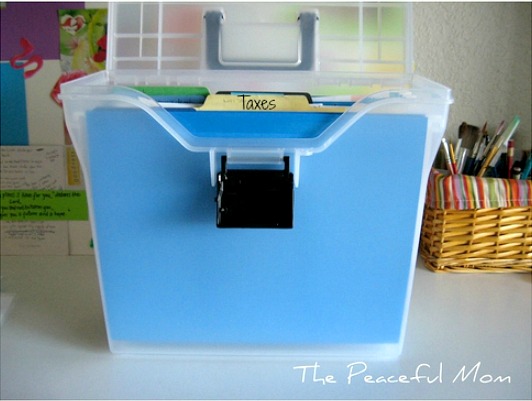 Label
Decide the specific folders and binders you need for the sub-categories of your main paper "families". Here's a peek at my folders and binders along with their current contents:
Active/Now Folder (on my desk) – invitation to respond to, insurance form to fill out;
Active "10 Minutes A Day" (on my desk) – non-urgent receipts to record and file, a card to cancel a magazine subscription, a letter to respond to;
Current Files (in a file box next to my desk) – current year's bank statements, receipts, paid bills, business invoices and receipts, current car insurance, life insurance policy and paid bills, current health insurance/medical information from my daughter's accident, car maintenance records and current year's homeschool records.
Current Binders (on the shelf next to my desk) – Money GPS (see details here), Writing Projects (ideas and rough drafts for books I want to write, research articles), Business School (free resources I have printed and want to study to improve my business), Holiday Planner, Blog Planner;
Long – Term Storage (in file boxes in my garage) – tax files for the last 10 years, past writing projects (like printed copies of my ebooks);
Sentimental Items – photos are stored in albums and photo boxes and I keep a few cards and letters in a box in my closet.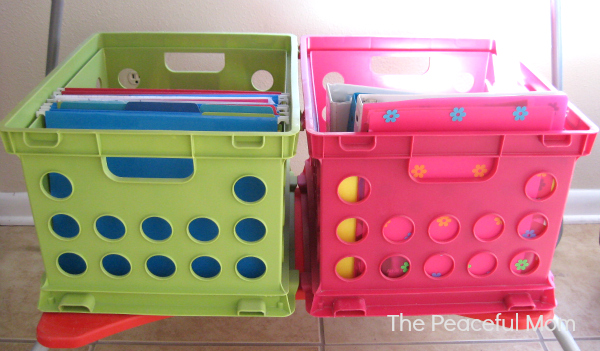 Sort and File
If you have lots of papers this part of the process will take the longest, but you can easily break this task into 10 minute sessions as well. Taking one category at a time, pick up each piece of paper and make a quick decision about whether or not you need to keep the item. Place papers you need or want to keep in the appropriate folder or binder. Throw away items you don't need or place them in a box or bag to be shredded later if they contain personal information.
As you're sorting you may realize that you need to add additional folders for specific categories you come across. Label the folder and file the items as you sort.
If you have lots of papers it's a good idea to take a break every 30 minutes to do something active. This will help to clear your brain so you can return to the sorting task a little bit fresher.
If you are short on time deal with your ACTIVE pile first. Place the other categories in separate boxes or baskets and schedule a time to finish them.
Set Up Systems
Once you have your papers sorted you will need to set up systems so your papers can stay organized.
Create a Budget Binder – Set up a notebook for bills, banking and financial goals. (See How to Create a Simple Budget Binder here — with free printables.)
Deal with Mail Immediately – Once you remove the mail from your mail box open it all immediately, throw away envelopes and ads and place the mail you need to keep in the appropriate location (bills in your budget binder, items to respond to in your NOW folder to deal with this week, etc.).
Corral All Papers – Choose one location for your papers such as a wire basket or a letter box on your desk. Make it a habit to place ALL papers in that one spot rather than allowing papers to take over other areas of your home like your kitchen counters.
Schedule Your Paperwork – Schedule a weekly or daily time to deal with paperwork and add it to your calendar. You can even set a reminder on your phone. Once you have taken action on an item be sure to file or discard the paper immediately.
Deal With Piles Quickly – If you have a busy season of life and papers are starting to pile up again use the 10 Minute Paper Pile Fix to get back on top of the pile.
Papers can be one of the most difficult issues to deal with in organizing your home but with these tips and a little bit of effort you can conquer that paper pile!